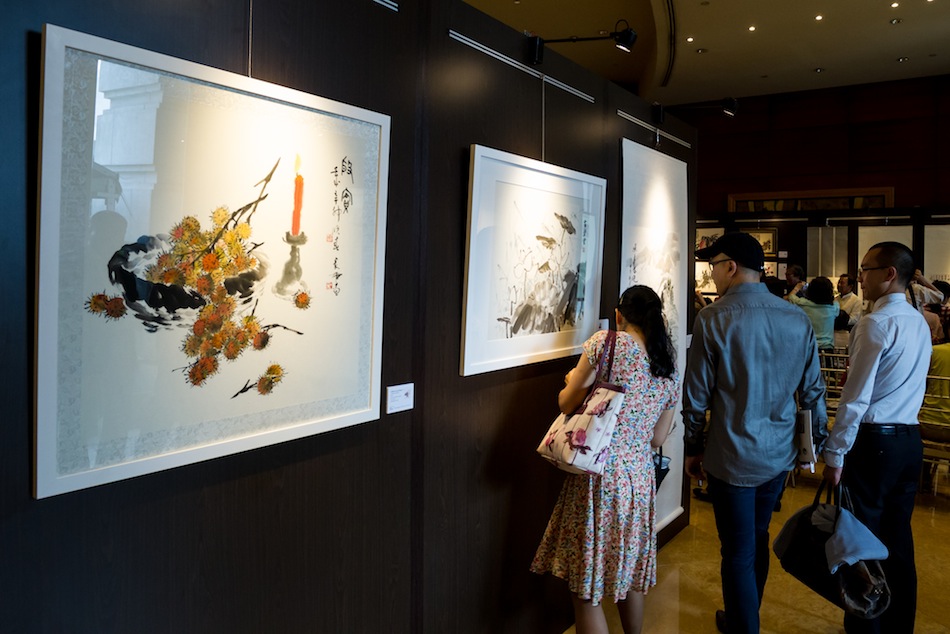 Asia Art Collective proudly presents "Influence of the Shanghai School of painting in Singapore".
This extensive exhibition covers the progenitor of the Shanghai School (Haipai) Wu Changshuo, to the Haipai masters Wang Geyi, Wang Yiting and Fan Chang Tien, the emigrant artist who carried the tradition to Singapore; and finally the Singaporean disciples of the Shanghai School: Ling Cher Eng (1940-1995), Nai Swee Leng, Lim Kay Hiong, Chua Ek Kay (1947-2008), Tan Oe Pang, Lee Soo Chee, Wong Pik Wan, Tan Siow Aik, Low Eng and others. This showcase will allow art lovers in Singapore to understand more about the tradition of Chinese ink painting as seen in the Shanghai School tradition, and the methodology and spirit of the paintings.
The Shanghai School (known as Haipai, or Haishanghuapai), is an art movement in modern Chinese history, with a large number of adherents and an extensive following and influence. The Shanghai School transformed the age-old Literati tradition of Chinese painting and calligraphy by adding to it its own characteristics and flavour of the times, creating an art style which is both expressive and yet retaining certain regional characteristics.
A picture taken at Fan Chang Tien's residence, on the occasion of Wang Geyi's visit to Singapore, 1985. When Wang saw works by Fan's students, he remarked that the Wu Changshuo 'discipleship' had been very successful in Singapore, and he credited this success to Fan's teachings.
Top row, left to right: Chuan Keng Boon, Teresa Yao, Tan Siow Aik, Chua Ek Kay, Fan Chang Tien, Wang Gong Zhu, Fu Yao Ming, Mdm Heng Siew Leng. Bottom row, left to right: Lee Soo Chee, Wong Yean-yean, Wong Pik Wan, Wang Geyi.
Wu Changshuo (1844-1927) was an outstanding Chinese modern master of the Haipai movement, and was considered along with Qi Baishi, Huang Binhong and Pan Tianshou, as one of the "Four great traditional masters of the twentieth century". At 22, he passed the imperial exams to become an official, studied verse and calligraphy, and started painting when he was around 30 years of age. From the subject matter, to the pictorial composition, selection of ink and colours, down to the calligraphy and inscriptions, Wu Changshuo's works bear the result of much careful thought and reflection, bearing the idea and spirit of the work deeply in his heart before putting it down on paper. Many of his works contain poetic verses, embedding the meaning and the artist's thoughts in the picture. This perfect integration of verse, painting and calligraphy was a great influence to his contemporaries and followers, with his most promising and favoured student being Wang Geyi.
Wang Geyi (1896-1988) started out as a young disciple of Wu Changshuo, later becoming his
favourite pupil in Wu's later years. The style of Wang Geyi possesses characteristics of his master's style: a bold, deliberate awkwardness, large in spirit and character. But beyond these, his style also developed further than his master, seen in his especially fine paintings of birds and flowers; bold and unrestrained, flowing naturally but forcefully, and yet retaining freshness and clarity of expression. In the 1920s, Wang Geyi taught art in Shanghai, with Fan Chang Tien as one of his innumerable students.
Wang Yiting (1867-1938), a legend of the Shanghai School, was a devout Buddhist and a famous householder in Shanghai. A proficient artist as well as a successful businessman-banker, Wang Yiting furthered the reputation of the Shanghai School through his own art and his business dealings, further increasing the stature of the movement to its golden age. The influence of Wu Changshuo can be seen in Wang Yiting's works, as Wang greatly admired Wu's talents in painting, calligraphy and poetry.
Fan Chang Tien (1907-1987), who hails from Jieying prefecture, Guangdong province of China,
studied under the Shanghai masters Wang Geyi, Wang Yiting, Pan Tianshou, Zhu Wenyun and
others. At the time when Fan entered the Shanghai Changming Academy of Art in 1929, Wang
Yiting was serving as the academy's Honorary Principal, and Wang Geyi as the head of the Chinese painting department. When Fan came to Singapore in the 1950s, he continued the tradition of the Shanghai School, further elaborating the style in his excellent work, the themes of landscape, birds and flowers, and especially the bamboo and orchid–which earned him the reputation as the "Bamboo King" (Zhuwang) in Southeast Asia. It can be said that Fan Chang Tien is truly a successor of the Shanghai School. Many students sought tutelage under him, including Tan Siow Aik, Ling Cher Eng, Nai Swee Leng, Lim Kay Hiong and Tan Oe Pang in the 1960s; Lee Soo Chee, Huang Biyun, Chua Ek Kay, Low Eng and Chen Kezhan in the 1970s. With the many students under Fan's mentorship and guidance, and the flourishing and individual styles which they have developed, it can truly be said that Fan Chang Tien has carried on the tradition and contributed greatly to both the tradition of the Shanghai School of painting and the practice of Chinese ink painting in Singapore and Southeast Asia.
The true tradition of the Shanghai School as passed down unreservedly by Fan Chang Tien to his students, and how these students have taken the tradition and given it due diligence, hardwork and adding to it their individual characteristics, and from the new students under them–all these have ensured that the discipleship and tradition of the Shanghai School continues to live on, generation after generation, demonstrating the continuity and self-renewing tradition of Chinese painting.