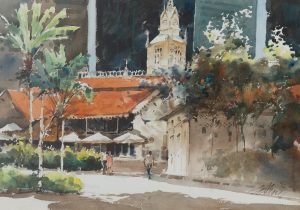 Ong Kim Seng (王金成), born in Singapore on June 10, 1945, is a prominent watercolour painter in Singapore. Ong Kim Seng was the former chairman of the Singapore Watercolour Society (1991-2001) and received many distinguished art awards throughout his career. He was the recipient of the Cultural Medallion, one of the most prestigious art awards in singapore. Ong Kim Seng was also the first and only Singaporean to receive six prestigious awards from the American Watercolor Society (AWS). Ong Kim Seng has held many individual and group exhibitions. His works have been exhibited internationally in Europe, the United States, Japan, and ASEAN countries.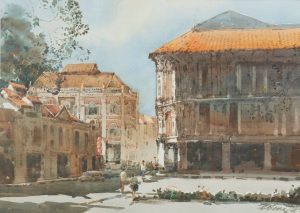 Ong Kim Seng became a full-time painter in 1985. As a self-taught painter, Ong Kim Seng has shown a keen interest in art from a young age. He started off exploring with charcoal drawing and oil painting, and in 1960 he switched to watercolor painting. Ong Kim Seng focused on observational painting and loves to paint architectural forms, masonry, leaves, mountains, rivers and seas. Ong Kim Seng's hobbies include traveling, hiking, jogging, swimming and cycling. Ong Kim Seng is an avid traveler who has sojourned across different states and continents in his attempt to encounter and capture in his paintings, the awe-inspiring beauty of Mother Nature and the diverse cultures that exist in various environments. For example, he hiked the Himalayas more than seven times, creating award-winning paintings in the process, such as Gysante Market and Thimi.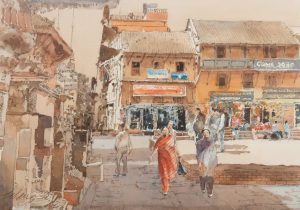 Ong Kim Seng is also an active member of the Singapore art community; other than creating artwork himself, Ong Kim Seng also teaches watercolour painting. Today, Ong Kim Seng has taught many aspiring artists. We have been working with him to host watercolour masterclasses. Ong Kim Seng would personally take the students out on a hike to create landscape watercolour paintings and sketches. The students can be with him to witness his creative process. After the guidance of teacher Ong Kim Seng, the students gave feedback that their watercolor painting skills had improved significantly.
Iola Liu
Asia Art Collective