Tan Choh Tee is a prominent Second Generation Artist in Singapore and  specialises in oil painting. Mr. Tan was born in Shantou, Guangdong in the year 1942 and came to Singapore in 1955. In 1958, Tan Choh Tee studied sketching under Mr. Liu Kang and enrolled into the Nanyang Academy of Fine Arts (NAFA). It was also in 1958 when Tan Choh Tee chose to specialise in the Western Painting in NAFA, taught by several pioneer painters such as Chen Soo Pieng, Georgette Chen, and Lai Foong Moi. Georgette Chen taught him drawing and Chen Soo Pieng taught oil painting. He graduated from Nanyang Academy of Fine Arts in 1962. In 1976, he resigned to become a full-time painter. From 1984 to 1985, Tan Choh Tee taught in NAFA for two years. In 1986, he went to Beijing and spent six months as a visiting scholar at the Central Academy of Fine Arts. He met Chinese painters such as Hong Ling and Wu Yunhua in the same period. During his stay in China, he also went to Dunhuang Mogao Grottoes to observe and study. Tan Choh Tee has held numerous solo and group exhibitions. He also has led art exhibitions in Russia, Germany, Britain, France, Japan, South Korea, Indonesia, Malaysia, Taiwan, Hong Kong and other countries and regions. Tan Choh Tee has also won many acclaimed awards such as the pinnacle of Singapore art awards- The Cultural Medallion, in 2006.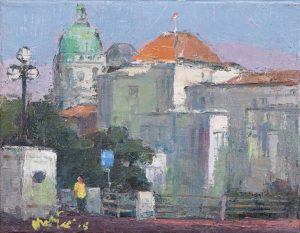 In the 60s and 70s, Tan Choh Tee started to do outdoor observational sketching. He painted Singapore street scenes like Chinatown, Amoy Street, Little India and other old shophouses and old streets. Many of the old streets and buildings he painted have now been renovated or demolished. His paintings have therefore become historical records of the city, leaving a physical momento for Singaporeans to reminisce with. He also often travelled aboard to Bali, Phuket, Malacca, India, Vietnam, Myanmar, Shantou, Lijiang and other places to sketch and paint the old streets and local customs.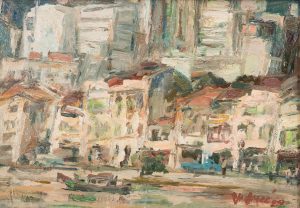 Tan Choh Tee specialises in landscape and observational oil paintings. His paintings are rich in color and expressive in texture. His paintings have a simple yet natural vibe. He often paints with a knife, with big colour blocks and powerful brush strokes, each stroke showing a strong sense of three-dimensionality and texture. Tan Choh Tee is exceptionally good at observational sketching; he likes to go knee deep in nature and paint, expressing all his intricate feelings for nature with his paint brush. Most of Tan Choh Tee's works are observational paintings, but these are not simple renditions. His works can capture details in colour contrast and change of light and shade in the landscape; the trees, flowers and plants swaying in the wind, and cleverly outline the figures in the landscape.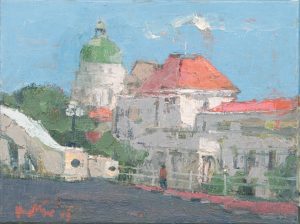 In the midst of the pandemic, Tan Choh Tee painted many still life subjects: garlic, mangosteen, tomatoes, radishes, bottles and jars laying around at home, etc. Due to health and safety measures, he was unable to go out to paint on the ground. Nevertheless, he used this special period to complete dozens of still life oil paintings in his studio. "Still Lifes by Tan Choh Tee" was a solo exhibition held in 2020 and  exhibited close to 30 of his still life paintings. His works are well received by local collectors since they believe that it is worth collecting and have investment value.
Iola Liu
Asia Art Collective