Ang Ah Tee is a prominent member of the second generation of Singapore artists. Born in the year 1943, Ang Ah Tee graduated from Nanyang Academy of Fine Arts in 1962 and studied under Cheong Soo Pieng and Georgette Chen. He became a full-time painter in 1977 and won the Singapore Cultural Medallion in 2009. Ang Ah Tee has held solo or group exhibitions in China, Southeast Asia, the Middle East, the United Kingdom and the United States.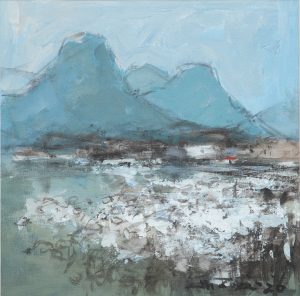 Ang Ah Tee is well-known amongst Singapore art lovers and collectors. Ang Ah Tee painted watercolour paintings and oil paintings in his early years, but gradually changed to acrylic painting. His works features a wide range of subjects, the style of his works is more abstract comparatively, and has the characteristics of impression expressionism. His colours are stable, the tones are unified, and the overall composition is elegant. In his brushstrokes, Ang Ah Tee implicitly depicts the architecture, streets, mountains and rivers, and the works are brought out with implicit beauty.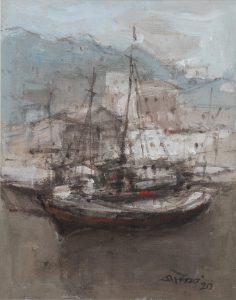 I remember that in 2014, when we held the second-generation painter's work exhibition, we exhibited Ang Ah Tee's oil paintings. We sold Ang Ah Tee's works which required him to sign the certificates of authentication. We took the opportunity to visit to his home and studio. On the wall of the living room his artworks are neatly arranged, giving it the feeling of a small exhibition hall, we talked about his creation in his studio, talked about his style of work, we were all deeply moved by his love and devotion for art.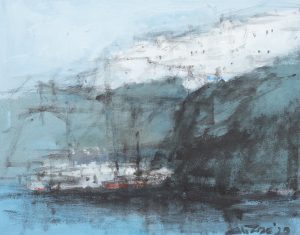 Ang Ah Tee is a professional artist among the second generation of painters in Singapore. He has made a living by selling his works for decades. The prices of his works are very stable and gradually increase every year. Ang Ah Tee's works are highly appreciated by local collectors and his works are easy to sell.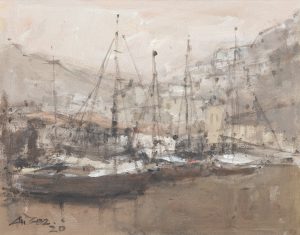 The Asia art collective exhibition hall will regularly hold Singapore's second-generation painter Ang Ah Tee's work appreciation activities. We welcome friends who like Ang Ah Tee's works to discuss Ang Ah Tee's art with us.
Iola Liu 
Asia Art Collective